Saturday, October 01, 2005
Me and the MPAA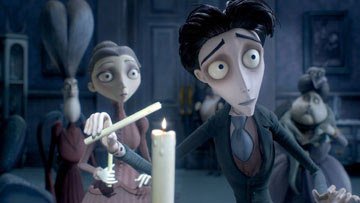 I just saw The Corpse Bride and it was pretty bad-ace. For a PG movie, it was pretty darn cool, and I really enjoyed the story and plotline. Although it was really good, lets be honest: R-rated movies beat PG ones any da
y of the week.

Until I turned 17, I was always trying to get my R-rated movie on. That was my dream. I had to sneak into

Troy

with my 17 year old friends when I was only 16, and earlier than that (now that I look back I know it seems odd) my mom bought us tickets into

Scary Movie 1

and

2

(gosh, she really must not have known anything about those movies). Now that I'm 18, I hardly go to any R-rated movies, and that makes me sad. Since I'm isolated from the rest of the world and have no idea whats going on on the outside (no cable and I very rarely listen to the radio, since I have two roomates and they very rarely are on the same schedule as I) I don't know what any of the new movies are, and was lost when I saw all the posters outside the theatre.

Man. I remember my first R-rated movie. It was

Speed

, featuring Sandra Bullock and Keanu Reeves. Wow, my sister
and I really relished the fact that we were in the second grade watching grown up stuff. Our parents let us, too. They raised us with the philosphy, that when it came to music and movies, that we were smart enough to filter out the bad stuff. Now before I get blasted for having terrible parents, let me tell you, my parents were the bomb, and not that, "My moms my best friend" stuff. We got beatdowns. In the supermarket, at church, on the street. And she has sons in some of the best universities in the country, and we've never been in jail, and only have 2 detentions between the three of us. Two - our entire Jr. High and High School careers (and those were attributed to one person, *cough**cough*). Well, done with my random rant. Going to bed, and then waking up tommorow (don't most people wake up, lol).

Oh! I finally got someone to braid my hair, and that is awesome. I can hardly wait.
posted by DeAndre' @ 9:46 PM


0 Put ya thang down flip it and reverse it:
<< Home
Unfresh. is powered by Blogspot, isnaini and Gecko & Fly.
No part of the content or the blog may be reproduced without prior written permission.
mystats

Name: DeAndre'
Home: Waco, Texas, United States
Who Am I?: This one time I decided that everything in my life would be in musical form. ANd everyone would automatically know the words and the choreography and sing on key. You see how well that turned out.
Read More! You know you want to!
Something I wrote a coupla days ago...
Some stuff I wrote a few months ago
Where do I go?
Affiliates
Opposite of Fresh.